I suffered through my 15 year old (and youngest) cousin's baby shower (yes, I said 15) this past weekend. I know this might sound harsh but I just can't bring myself to be happy for someone who is pregnant and incredibly irresponsible. I've worked in the child welfare/foster care field for the past 7 years and I really lack empathy for crappy parents. I'm not saying that my cousin is going to be a crappy parent but she just doesn't have a clue. Her idea of a "good parent" doesn't go beyond dressing up her baby in cute clothes (her registry full of newborn clothing instead of diapers, bottles, etc. proved that).
My cousin had invited her friends to the party and I'm pretty sure my mouth dropped open in shock when I saw them because they were all pregnant. I'm not exaggerating, she had maybe 10 friends there...6 were pregnant and 1 just had a baby. All of these girls were 16 years old or younger. Wow since when did it become trendy to tote around a crying, pooping, spitting up baby when you are just a baby yourself?! The girl with the baby looked absolutely miserable and never once held her baby (in the 4 hours I was there) but allowed the baby to be passed around from friend to friend. I don't think her friends noticed her misery...they were too busy talking about how cute the baby was.
The party got better when my cousin opened up her gifts and every 2 seconds asked, "what do you do with that?" or "what is that called?". She held up a pacifier and was like, "what is this called again? Oh yeah a pacifier"...shoot me! Let's hope she figures out what pacifiers are for before she delivers!

On a happier note, I must admit that I had fun shopping for the shower. I bought her a medical kit and for something fun I made her a cupcake onsie and got her this burp cloth and a bib to match from babymomo on etsy...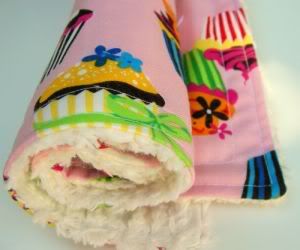 CD 28